Aaron has over 13 years of experience. Aaron is Blue & Gold certified, the highest level of technical knowledge recognized by Husqvarna Viking and BERNINA.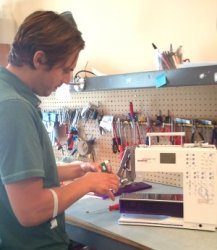 Tips From Our Tech
SURGE PROTECTORS ARE A MUST FOR ALL COMPUTER MACHINES! We recommend protection of at least 1000 joules.
We do not recommend sewing over pins. You risk breaking a needle, which could fly in your face or cause a burr on the hook. If you have a broken needle, be sure to find and remove all broken pieces.
Change your needle and oil the hook every 3-4 sewing hours. Do not use a dull or damaged needle.
If your needle gets jammed in your fabric, turn off your machine, and remove the needle from the needle bar. Do not use the hand wheel to pry the needle out. It may negatively affect the timing of your machine or damage the hook of your machine.
Do not use canned air to clean out the hook area of your machine. Lint flies up and may damage the computer boards.
Never use abrasives on the body of the machine or on the touch screen. Any type of mild cleaning agent, such as Formula 409, should be sprayed onto a cloth and then applied to the body of the machine. Never use acetone, mineral spirits, or harsh chemicals.
If your beloved sewing machine is on the fritz, we welcome you to visit our on-site full service repair shop where our fabulous service technician can take care of all your sewing machine servicing and repair needs. We also have a limited selection of used Bernina machines and used non-Bernina machines for sale.
We service
ANY
brand or model of sewing, embroidery,
long-arm machine and serger.


Our Service Tech, Aaron, is in Tuesday - Friday from 9am - 5pm.

Turn around time is approximately 3 days, unless special parts are needed.



Clean, Oil & Adjust



Mechanical $129

Electronic sewing machine or Serger $159

Electronic sewing machine with embroidery $179

Long Arm Machine (in store) $175

BERNINA 820/710/750 $229

BERNINA 830/880/780 with embroidery $249
without embroidery $225


Please include the following when you bring in your machine:
Machine
Foot Pedal
Power Cord
Bobbin case
Standard basic foot
(Please leave all additional presser feet
and accessories at home.)


THANK YOU!