BERNINA 830LE

Limitless Creativity for a Limited Time. The ultimate high performance sewing & embroidery machine that is truly in a class all its own. It is so unique only 4000 will be made each engraved with its own number.


BERNINA 830

It's time to think bigger. The ultimate high performance sewing machine that is truly in a class all its own. With technology so advanced features so thoughtful the BERNINA 830 redefines the experience of home sewing.


BERNINA 820 QUILTER'S EDITION

The Ultimate Sewing and Quilting System. The BERNINA 820QE offers high-performance features allowing you to create more create bigger and create for longer than ever before.


BERNINA 580

The new B 580 E will wow you with its simple yet classic design combined with superior function to set new standards.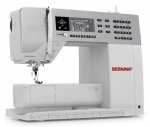 BERNINA 550QE

Sewing and quilting to a professional standard


BERNINA 380

At the top of the 3 Series line the BERNINA 380 truly shines with its unique look and countless features.


BERNINA 350 PE

Quality and precision in a well-designed package. Its modern LCD display bright LED sewing light and convenient features make sewing even more enjoyable.


bernette 340 deco

Bound to make embroidery one of your favorite hobbies. Embroidering can be that easy! With its extra-large embroidery surface & numerous facilities for editing & combining designs on the machine bernette 340 Deco makes creative projects a real pleasure.


bernette 46

The cool retro look of the bernette 46 is reminiscent of early sewing machines. The bernette 46 is a great machine at an affordable price. With variable stitch width and an assortment of practical and decorative stitches the bernette 46 helps you turn y


bernette 15

Young design and plenty of creative options